ok so ...
Multi Escs is a little tricky 
so short answer is yes... 
you can run all 4 speed controllers from 1 reciver and you can run each controller at a diffrent voltage...
now heres the kicker
most escs have something called a BEC ( battery eliminator circuit) which provides power to the Reciver via the main battery. 
when using say 2 ESC's then a simple disconnect of the BEC lead of the plug will usualy do the job and not blow up the reciver as you are only feeding power from one.
when your running more than 2
and in your case 4 and using multiple voltages for the escs themselfs then we have an entierly new issue to deal with, 
each ESC will require its own battery or the ones that are on the same voltages sharing in parrallel....
when your doing something like this you shouldnt as a rule use the BEC on any of the ECS's to power the reciver itself. as one of those batterys is controlling that reciver if it dies then your stuck litrally with no paddle!
so instead your set up should be something like this .....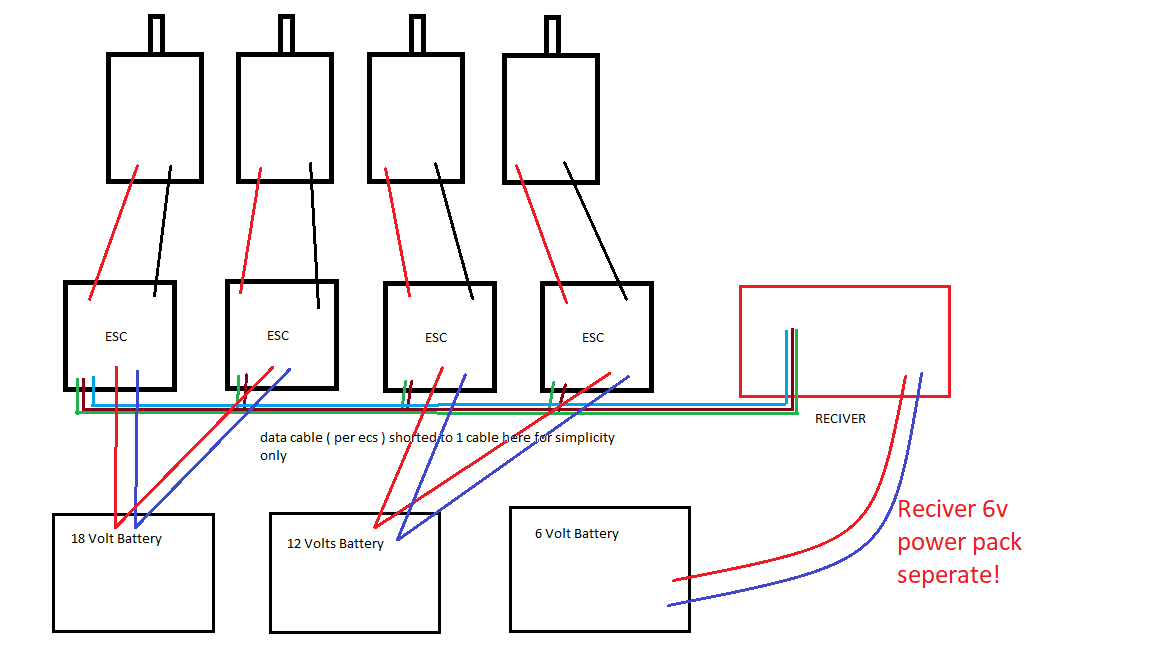 Now Obviosly this is How I would do it! there are other methods but this is the most trusted and reliable method i think the image speaks for itself on the setup
Note here
ALL BEC CABLES FROM EACH ESC SHOULD BE DISCONNECT FROM THE PLUG! ( ITS THE MIDDLE WIRE) THAT IS ESSENTIAL! OR YOU WILL BLOW UP YOUR RECIVER! ITS NOT ON THE IMAGE... BUT ITS 100% VITAL YOU NOT FORGET THAT SHOULD YOU USE THIS SETUP

_________________
I'm  Not  Anti-Social,  I'm  Anti-Stupid.