I've been asked a few times how do i upload a video from youtube to play in my post?
Well this will sort you out...
First thing for everyone is to Edit your profile preferences, this is beyond my control as its a user function rather then a admin set-up so your going to have to help yourself's...
So first thing to do is go to
PROFILE
-> PREFERENCES.
Once on the preference screen
You need to check the boxes
ALWAYS ALLOW BBCODE & ALWAYS ALLOW HTML.
Remember to save the settings once both boxes are checked.
Once you have changed your settings you can now see video inside a post. This setting i do suggest everyone change to make life easier.
Ok now you are able to view media from outside scores next is how to upload a video into a post.
--------------------------------------------------------------------------------------------------------------------------------------------------------------------------------------------
First thing open the topic you wish to post in, (reply button) or create a new topic.
To upload a video is simply a matter of opening youtube and finding the video you want to share in the forum..
Now you see see at the bottom of the video a button called
SHARE
click this button
a url link will now appear for the video... this is not what you are after!
Below that URL link is a button called
EMBED
Click that and a big code will appear in a box.
You need to copy this code which is called an Embedded code.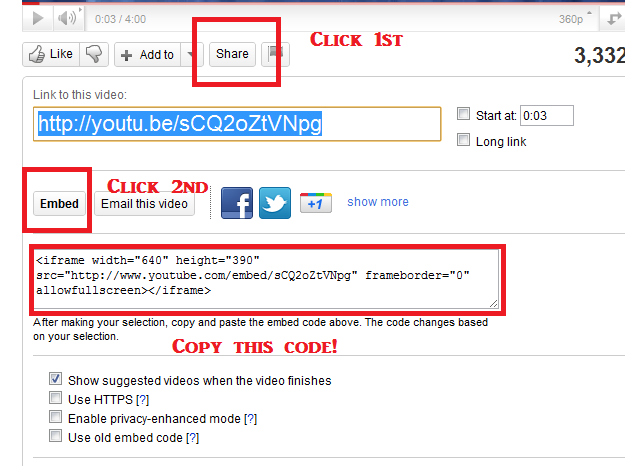 Once copied you can
PASTE
this code into your post.
like this....
>iitframe "https://www.youtube.com/embed/IlOOzFiEPvI" frameborder="0" allowfullscreen>
NOW
before you hit the send button you must do one more thing...
at the bottom of the page is a section called options...
You need to click on the little + box to the far right, a drop down menu will appear.

you must ensure that the tick boxes
DISABLE HTML IN THIS POST
&
DISABLE BBCODE IN THIS POST

ARE BOTH UNTICKED!!

If you did all that now you can hit the send button... and you should when looking at the post/topic see your video in the post!
IF you can see this video below you have activated the First steps of the post correctly (if you can see the video and didn't do the steps don;t worry about it!), and proof it works as i said! If you can't go back and see what you did wrong of pm a member of admin.