The first job was to remove the fittings from the deck, plus the rear railings. The deck was only 1 mm plastic card, so to strengthen it I added some 1.5 mm. It may require additional stiffeners under the deck - I'll see how it is when everything is finished.
Next job was to mark the centre of one of the larger discs and then fix a servo wheel to it. Eventually I will create a 'skirt' to hide the servo head. This will probably be another 90 mm circle with its centre cut out.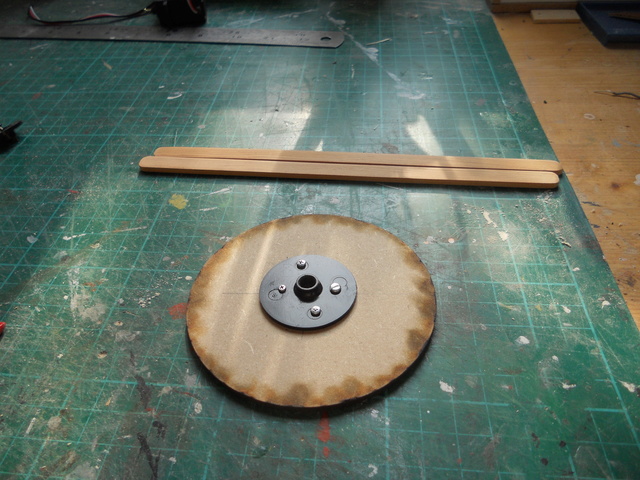 The arms for the tower will be made from timber - GG used plastic I beams, but I couldn't find any big enough.
Next up was cutting a hole in the deck to take the rotate servo. This was then fixed to give the necessary clearance for the rotating platform.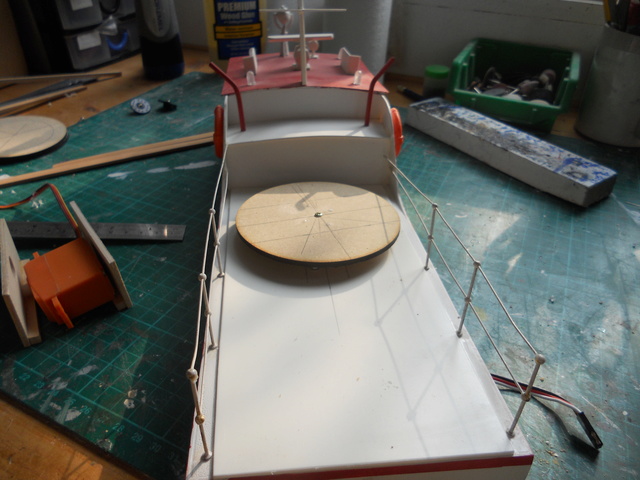 I have also been working on the lifting servo. Two cheeks have been cut from liteply. The servo will be glued between these, and these then glued to the rotating platform.
This has all been reasonably straightforward - next we come to the tricky bit

 One arm needs to be attached to the lifting servo and the other given a pivot on the opposite side. These will need to be accurately aligned if the tower is to rise without twisting

Barrie